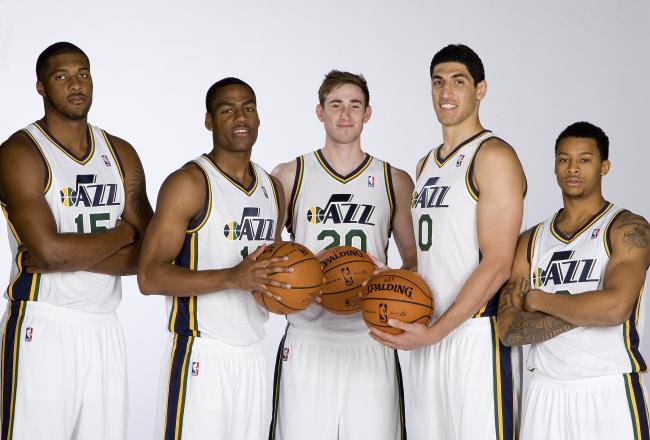 With the preseason kicking off next week I thought I would go over some things that I believe will be key for the Jazz to be successful this season. In doing so, the first thing we need to do is define "successful". In my opinion we can throw wins and losses right out the window. This season is not going to be defined on wins and losses. But if your were asking me, I am going to say somewhere between 28-34 wins. That may be a stretch, but I think guys are better than people think. I think early on they will sneak up on a few teams and steal some wins. But back to "success", I think its all about development. Not just on the players level but on the coaching staffs level as well. We need to see the staff handle game management and situationals better this year. The staff really missed on a few opportunities last year. Lets take a look at some of those keys....
Defense-
The Jazz need to develop an defensive identity. Are they going to concede buckets and not foul players? The philosophy of the San Antonio Spurs? Are they going to be the Jazz of old and contest and foul at every easy bucket? I personally don't like giving up easy buckets, but at the same time I don't want to see a bunch of useless fouls. We need to see individual defensive improvement from the likes, of Burks, Evans, Burke. Can Alec stay with his man as he is running off baseline screens? Is Trey getting picked off on the high pick and roll? Are the bigs showing on the high pick and roll? Can Jeremy play similar post defense to that of Andre Kirilenko, use his length and athletic ability to substitute for a lack of strength? We also need to see a vast improvement in the team defense. Are guys running out at the spot up shooters? We gave up 42% and 43% respectively to the corner 3's! That is a killer! We need to make sure we have solid rotation also as guys run out.
Tempo-
This team is full of tremendous athletes! They need to play to that strength. Get up and down the floor, run after made buckets. I can remember watching Favors and Kanter last year beat the other teams big down the floor constantly. If that happens this year Trey, Alec and Gordon have to push it,take advantage of the situation. They will be the recipients of a number of and 1's. This is where the "Mailman" made his money, constantly beating the opposing team down the floor. There is also the talk that Trey is small and an average athlete. I think people are forgetting the chase down block he had in the Championship game against Peyton Siva. And before anyone says it was Peyton Siva remember, he had the second best athletic testing at the combine only behind Shane Larkin. Trey is a good athlete and will need to use that to push and create early opportunities for himself and the team.
Leadership/Chemistry-
I feel these two go hand in hand. Can Gordon and Derrick lead these guys? What type of leaders will they be? Vocal by example? How are their teammates going to react when they have to get after someone? I get the sense that these guys all like each other. They have a good time together on and off the court. So when things don't go well, and there is frustration in the locker room hopefully they will be able to stick together. I believe in the early days of camp we see that Gordon is far more serious than he has ever been. He is pushing himself to the max and in turn the other guys are seeing this and seem to be pushing themselves as well.
Lastly, the coaching staff-
What effect will having Jerry around have on the staff and more specifically Ty? Will the young bigs develop more efficiently with the tutelage of Malone? What kind of leash will they give these young players? Have they put in the time to bettering themselves as a staff? I think Jerry's presence for Ty will be a great strength for him. Ty will have the opportunity to bounce ideas off one of the greatest coaches of all time on a daily basis. Ty has so much trust and respect for Jerry, to the point where I don't think he wants let Jerry down.
I think if the Jazz are able to develop and hold on to these "keys" that this season will be deemed a success regardless of record. Ty will keep his job, Derrick and Gordon will get their extensions and the Jazz will draft Andrew Wiggins!.....Wishful thinking right?