The Utah Jazz played a full 48 plus some tonight, beating the Chicago Bulls 89-83 in over-time. They really needed a game like this. It shows this young team that if they work hard and put in the effort, they can be in games and give themselves a chance to win games. This was a total team effort. Love the way this team fought....
Only going to discuss the positives tonight...
Great ball movement on the pick and roll early with Hayward and Favors, ends with Favs getting an "and 1"
Trey Burke is going to be a good defender in the league.
Favors played like a man tonight!
Great defense in the first quarter, Jazz were physical.
Jazz won the first quarter 23-18
Jazz cut hard and set some really good screens.
Rudy Gobert is a game changer. Length and energy. He runs the floor hard for a big.
Evans and Gobert did a great job attacking the defensive glass.
Jazz executed the offense and stuck with it.
Balanced first half on offense for the Jazz.
Jazz lead at half 40-32 only the 4th game this year that has happened.
Jazz defense in the 3rd quarter was great. Rotations were really good.
Jazz really fought down the stretch.
Trey Burke is not afraid of the big moment. Hit a huge three.
Jefferson had enough left in the tank down the stretch.
Jeremy Evans played tough in the 4th and OT....did not let the bigger players push him around. Was not intimidated and equal to the moment.
Richard Jeffersons defense on Deng was fantastic! That was the difference in the game.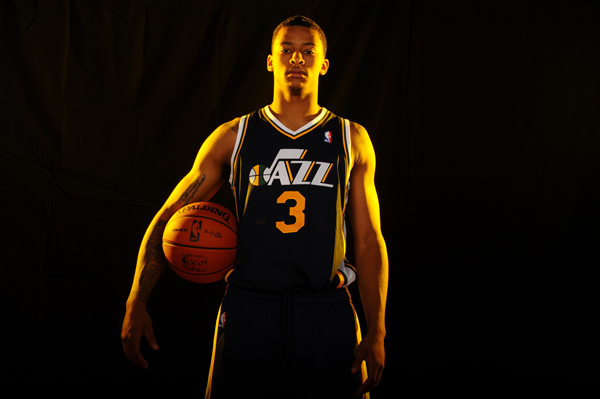 This game showed a lot of different things from a number of different players. Again, staying as positive as possible, the Jazz tried to give it away but stuck with it. To be honest, its really nice to be able to stick it to a guy like Boozer. Jazz did lose the battle of the boards but it was only by 4 boards. They did really well at the foul line shooting 16-19 84.2%. This is the kind of game that this young team can build from. They had to grind and fight. They never quit! This is was JAZZ FANS WANT! Well done Jazz, well done!