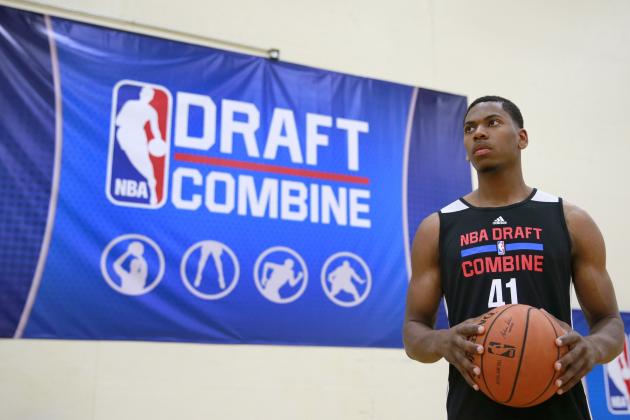 The NBA held its annul Draft Combine on May 15th and 16th last week. There wasn't much hype going in to the combine due to the number of high level players pulling out. Players such as Jabari Parker, Andrew Wiggins and Joel Embiid did not participate. There were also a number of them that were in attendance that only performed the athletic testing. Some of those players were Marcus Smart, Aaron Gordon and Dante Exum.
Going in the the combine Exum was the player most fans and teams wanted to see perform. He participated in the measurements and testing and he was one of a handful of intriguing prospects. Others included, Zach LaVine of UCLA, Arizona's Aaron Gordon, Wichita State's Cleanthony Early, Florida's Patrick Young and Michigan's Glen Robinson III. Lets take a quick look....
Dante Exum-
31.5" no step vertical jump
34.5" max vertical jump
10.75 lane agility
Measured at 6'6" in shoes
6'9" wing span
196 lbs
While not the elite athlete some thought he might be, Exum tested very well. He was run through the athletic testing with the shooting guards. He actually tested the highest over all of all the shooting guards. Exum considers himself a point guard and with his measurables and athleticism he has the potential to be an elite level point guard in the league.
Zach LaVine-
33.5" no step vertical jump
41.5" max vertical jump
10.42 lane agility
Measured 6'5.75" in shoes
6'8.75" wing wpan
180 lbs
LaVine stole the show at the combine. He was clearly the best athlete of anyone tested. What makes it even more interesting, he was interviewed by ESPN's Andy Katz. and was asked by Katz what position he sees himself playing. He answered the point guard, but was willing to play the shooting guard or small forward, what ever the coach needed. If LaVine turns out to be a Point Guard he has all the same measurements as Exum, but also has elite level athleticism. He also participated with the point guards in the on court drills and was a standout. LaVine also has a decent shot that does not appear broken. All in all, he may have more to work with than Exum, you just might have to wait a little longer.
Aaron Gordon-
32.5" no step vertical jump
39.5" max vertical jump
10.81 lane agility
Measured 6'8.75" in shoes
6'11.75" wing span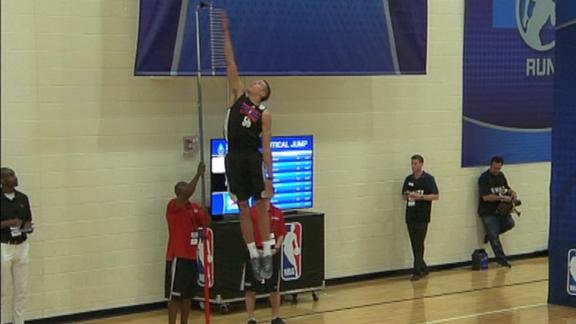 Coming in most people knew Aaron Gordon was a freak athlete. He did not disappoint. For a player at basically 6'9" and to have a sub 11 second agility drill is impressive. Even more impressive is having nearly 40" vertical! After the vertical testing was complete, Andy Katz spoke with Gordon and asked him what he thought, Gordon said that he was a little disappointed with his vertical, said that his highest test ever was 42"!
That is unreal for a player of his size. While Gordon did not participate in any of the on court drills he did mention that he has been working on his shot and his free throws, the two biggest concerns for teams in regards to Gordon. He mentioned there was a disconnect between his jumper and how he shot it at the line and that he had worked on that and corrected it.
Cleanthony Early-
34" no step vertical jump
40" max vertical jump
11.15 lane agility
Measured 6'7.25" in shoes
6'10.75" wing span
Cleanthony Early went from being undrafted to second round pick and now possibly solidifying himself as a first round pick. Early participated in both the on court drills as well as the testing for the small forwards and was very successful. Early had a great run in the NCAA tournament and put up some big numbers versus Kentucky and their star studded lineup. This is where most people started to take notice. Early shot the ball really well in drills and clearly was putting in work. I think the thing that stood out the most to people, was his athletic testing numbers. He showed good quickness with his agility testing, but he had elite athleticism with his vertical jump. With Wiggins and Parker as the top two small forward studs there is plenty of room for a player of Early's caliber to end up on a team with a need at small forward....(Utah Jazz)
Patrick Young-
32" no step vertical jump
37" max vertical jump
11.18 lane agility
25 bench reps
Measure 6'10" in shoes
7'1.75" wing span
246 lbs
If you are looking for a physical monster, you found it in Florida's Patrick Young. At 246 lbs and still having a 37" vertical leap! Who is going to want to challenge this guy? He also showed great lateral quickness for a man his size, making him valuable in both rim protection and the pick and roll. Young at one time was considered a late second rounder, but with these kind of numbers teams that made the playoffs that maybe looking to add depth or a rotation big, Young would be the perfect fit. There is a lot to like about this kid although he may not have the potential or upside that some of these other younger players may have.
Glen Robinson III-
36.5" no step vertical jump
41.5" max vertical jump
11.22 lane agility
Measure 6'6.75" in shoes
6'10" wing span
211 lbs
Glen Robinson III has the pedigree. His dad was a fantastic pro. GR3 had a better than expected freshman year but then followed in up with what many consider to be a sub-par sophomore season. Robinson, in my opinion is going to one of those players that is a better NBA pro than college player. While he is a bit of a tweener (SG/SF) he has the athleticism and quickness to guard either position. While he may lack elite length, he makes up for with strength and I have to give him something for the pedigree. Having a father that played in the league goes a long way for these kids and can help them prepare for the rigors of the NBA. I believe Robinson is one of those players. He is going to be a nice piece that someone is going to get late first round early second.
Wiggins rumored to be between 42-44"
While this years combine may not have had the big names people were hoping to see it still had plenty of intriguing performance that are going to give NBA front offices a lot to think about.
http://stats.nba.com/draftCombine.html