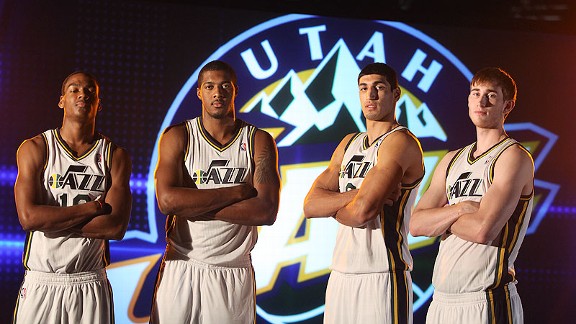 Monday September 30, 2013, and its time to get this season started! Media day for the Utah Jazz and I had a chance to listen to David Locke's interview with all of the players. Great interviews and some good introductions to some guys that are new to the team. There were a few things that stood out to me.
First was Dennis Lindsey's interview. The guy is more than solid! He has a plan in place and he is driving hard. David Locke discussed the open gym that they ran at the practice facility in September, Lindsey said they had over 50 players come through including their own. He mentioned the fact that all of the guys showed up early for that and were able to train at altitude. Dennis also mentioned some of the things that he noticed each player had worked on over the summer. The one that I found the most interesting is he and Ty's idea or role for Jeremy Evans. I never expected to hear them refer to Jeremy as a leader, but that is what they said they see him being.
I was also very impressed with Richard Jefferson. He comes to the team as somewhat of an outcast and a player at the end of his career. He understands his role and hopes to make the most of that as well as being a mentor to the younger guys. This is an important trait. The last thing this young team needs is a distraction (Raja Bell) in the locker room.
Trey Burke is a very confident young man that feels he has a lot to prove. He had the opportunity to spend 3 days in Spokane Washington with John Stockton this summer. The thing that I found the most interesting about Trey is that he is a student of the game. He took full advantage of the opportunity to go work with the greatest point guard to play the game.
Last but not least, I saw Gordon Hayward be a leader. Enes Kanter was doing his interview with David Locke and was having a good time, laughing it up and just being Enes. Gordon came over for his interview and jumped in with them. You immediately saw the respect that Enes has for him as a teammate and leader. Don't get me wrong, these guys like each other and are friends but they also know they have to get down to business and work to get to the level that they want to.
Love to see these guys stepping up and ready to do some work! Its going to be a fun season!
http://www.nba.com/jazz/2013/mediaday