Opening night for the Jazz was probably better than most expected (especially from so called experts) but the Jazz still left with a hard fought loss. The Phoenix suns opened the season Wednesday night with a surprising victory over the Portland Trail Blazers. Tonight's game should be a great one and Jazz fans get their first glimpse of fan favorite Jeff Hornacek and his uptempo coaching philosophy. Let's take a look at some of the keys for tonight's match-up....
Defensively
-Phoenix is a very uptempo,fast paced offense. Part of coach Hornacek's philosophy is to get a good shot up in the first 7 seconds of the shot clock. Phoenix has the pieces to make this work, with the likes for Goran Dragic and Eric Bledsoe. That's right Phoenix plays 2 point guards together and they will push tempo and play heavy minutes. Luckily for the Jazz these players are both "feast or famine" type of players. If they have it going, it could be a long night for the Jazz back court. This will also be the first look at Kanter and Favors having to deal with true stretch 4's with the likes of Channing Frye, and the Morris twins. Look for the Jazz to go underneath on pick and rolls with Bledsoe and make him a jump shooter. They will have to go over the top with Dragic. He is a 35% career 3pt shooter. The bigs will have to work really hard as Phoenix bigs are more of Pick and Pop type players. The Jazz defense throughout the preseason and game one as been really good, but this will be a different kind of test.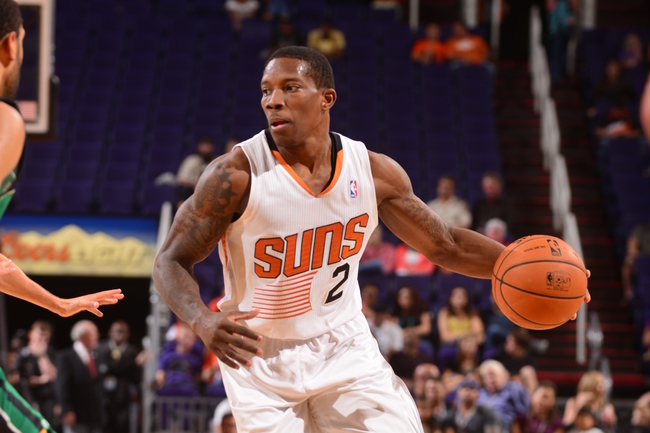 Offensively
-Look for the Jazz to establish a steady post game. Phoenix does not have a single player that can guard Favors or Kanter in the post. Also look for the Jazz to exploit the Hayward or Jefferson match-up, as Dragic or Bledsoe will have to defend one of the two. It could be a big night for both of these guys. The Jazz have also done a great job of pushing tempo after made baskets. The league is really coming down hard on the touching the ball after the made basket and it has actually played in the Jazz favor nicely. The Jazz will need a solid night from Burks again. He seems to be the catalyst for that second unit. Also need to see Kanter be very assertive both on offense and the defensive boards.
Coaching
-This is a match-up that Jazz fans will watch closely. There is a large contingent that thinks the Jazz should have made Hornacek their coach when Jerry walked away. Coach Corbin did a good job Monday night with situational offense, making the right time out calls and really riding hot hands throughout the game. It looks to me that Ty has really worked on his craft and may be developing in to the kind of coach the front office wants and desperately needs. The philosophy of both coaches are fairly similar so should make for a good game.
Lastly, we can't make this post with out discussing the unfortunate situation of not being able to come to a contract agreement with Gordon Hayward. I saw a tweet last night from ESPN's Zack Lowe stating that the contract situation was weighing on the team as a whole. The Paul George deal really put a crack in the foundation for a deal to get done with Gordon. Is Gordon a comparable player to George and possibly superior? Absolutely! But Indiana does not have any other marquee young players that they needed to shore up. Will that deal come back to bite them, maybe especially if one of their bigs has a major injury. But from both sides, this is ok. If Hayward goes out and has a monster season, the Jazz pay him. If he goes out and has an average or below average season the Jazz pay him at the appropriate market value. Unfortunately, I have not seen a single player in a contract year not struggle some. Dwight Howard, Carmelo Anthony are a couple of the more recent players that have dealt with this situation. Derrick Favors made the right call and took care of his contract situation and it shows in his play on the court since the deal was completed. I hope for Gordon's sake that he is able to go out and perform the way he wants to and thus deserve the contract he wants. But the Jazz made the right decision by not giving in just to keep a guy in house and not losing their leverage. There are only 3 players in the entire league that are not replaceable, Lebron James, Chris Paul and Kevin Durrant.
Tonight's game is going to be a fun fast paced game that will be a lot of fun to watch. Here is to hoping the Jazz go on the road and get their first win of the season and first ROAD WIN! GO JAZZ