Are we sure we are not in Salt Lake City tonight? Snow covered Oklahoma City and the Utah Jazz take on the Thunder. Lets hope the snow cools down the Thunder a bit tonight. Jazz played the Thunder tight on opening night. They will need the same kind of effort if they want to steal a win. Granted that first game the Thunder were without their All-star point guard Russel Westbrook who is averaging 24.7 pts and shooting nearly 55% from the field. Jazz will have their hands full tonight.
Defensively
-The Jazz must contain OKC's starters. The pair of Durant and Westbrook are arguably the most explosive duo in the league. There is no way to stop them. They are going to get theirs. The key is to make "getting theirs" difficult. With Durant, you can't give him any air space. Give him any and he will hit the jumper or blow by you. One thing Durant does not like is physical play. Mike Harris did a great job of this on opening night. He got up in Durant and made things difficult. Russel Westbrook is a much improve shooter, but I still feel like you want to make him a shooter early. If he gets going then they Jazz will need to go over the top on the screen. Westbrook also loves to pull up off the pick and roll for a 15ft jumper. He elevates very high on this shot making it almost impossible to block. Jazz need to be careful not to pick up a cheap foul or two on this play. I feel like the key to a Jazz win tonight, is to limit everyone else on the court. Jazz need to make Ibaka uncomfortable and keep him off the boards. He is also shooting the corner 3 this year. The Thunder will run Steven Adams, Reggie Jackson and Jeremy Lamb off the bench. Jackson is really Westbrook 2.0, can be very explosive. Lamb is in his 2nd year and has been inconsistent at best. Steven Adams is a rookie and worked out for the Jazz prior to the draft. Adams is a banger, loves to play inside, likes contact and is not intimidated by anyone. If the Jazz can limit the effectiveness of the rest of the team, they can give themselves a shot.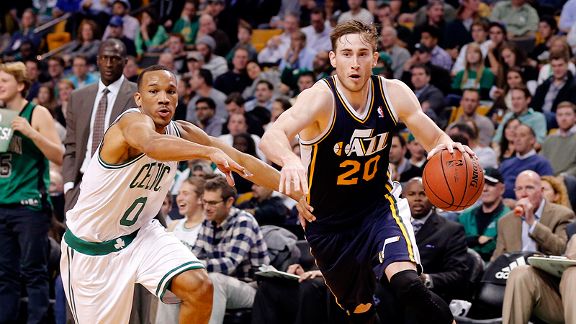 Offensively
-Not sure if it will happen tonight, but I sense a shake-up in the starting lineup coming shortly. The Jazz have started slow in every game this season. The Jazz have trailed at halftime in every game except 3. You are not going to win many games blowing 24 minutes like that. If there is a change tonight, I would expect it to be Trey Burke starting at the point. He has looked good the first two games and the finger does not seem to be bothering him. If the Jazz start Trey look for pick and roll and more pick and roll! Trey has great command out of the pick and roll. The Jazz will need to make a conscious effort to attack the basket, putting pressure on Perkins and Ibaka. Hayward is still struggling a bit. He had only 2 shots in the first half versus Dallas. He will need to be more aggressive early, yet pace himself so that he has the legs to finish. One thing that I think is really effecting the Jazz in the second half, is Richard Jefferson legs. He struggles shooting the ball in the second half. This may be due to the heavy amount of minutes he has be playing. Ty and the staff may need to keep a closer eye on this so they don't completely wear down Jefferson. The Jazz rotation seems to be cut down the last few games also. We have not seen Gobert or Clark. Mike Harris is getting very limited minutes and we have not seen Brandon Rush for almost 2 weeks. I can understand the rookies not playing, but Ty has a tendency to panic if they don't start fast. He starts making subs that don't seem to work. Let's see if that can be cleaned up tonight.
Tonight is the start of a back to back for the Jazz. This will be a tough one for the Jazz. I think we really need to watch effectiveness on offense, good defensive rotations and simply put, development. One thing that has me really concerned so far this season is the team rebounding. Last game the Jazz were out rebounded by 10. If the Jazz want to give themselves a shot at winning some games they have to improve in that area specifically. I have liked the active hands the Jazz have had recently. They just need to turn these deflections in to turnovers and points on those turnovers. Let's hope the Jazz come out with a strong effort and continue to work.....GO JAZZ!
http://www.nba.com/gamenotes/jazz.pdf
http://www.nba.com/gamenotes/thunder.pdf