Hell Yeah Jazz Fans! The Utah Jazz get the best of the New Orleans Pelicans 105-111! That is what Jazz Fans believe this young team is capable of and have seen in small stints early in the season. Tonight was a different story, the TEAM put together a FULL 48! That was the key to the entire game. 48 minutes of all out effort. Lets recap....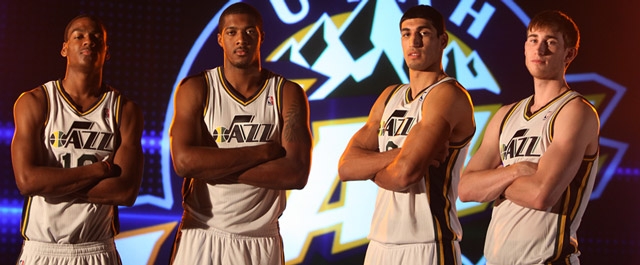 Early in the game the Jazz seemed to miss some opportunities in transition. This is something that Ron Boone has been pointing out the last few games, that the Jazz don't look to score in transition.
John Lucas was shooting like Jamaal Tinsley. Missed wide open shots, defense does not even guard him.
The post game was very effective early. Late in the first quarter the Jazz went away from it.
I am going to continue to say it till it happens, someone needs to put the officials on notice. Whether that is a player or the staff. Jazz get abused and get no calls.
Anthony Davis is a great player. I can't give him all the credit for the boards that he gets since there is no one else on the Pelicans even rebounds.
Diante Garrett is really long! Did a great job breaking the Pels down on the pick and roll. Plays with excellent pace.
It was so evident how bad the Jazz have missed a REAL POINT GUARD!
Kanter does a great job staying vertical down low. He may not block a lot of shots, but he is still 6'11" and will effect shots.
Trey Burke will really help Alec Burks and his game out when he returns.
Kanter did a good job on the defensive boards.
TURNOVERS and FREE-THROWS!!!
Davis gets star treatment already
Gordon Hayward really paced himself tonight. He had the legs needed to close.
Tyreke Evans is overrated. Always goes right. Paying that guy 11 million a year. No thanks!
Tyreke is a player that does the least with as much as his has been given, Not sure there is another player like that in the league, maybe DeMarcus Cousins.
The theme of the night....ATTACK, ATTACK, ATTACK
Loved the emotion of the Jazz tonight!
Vets were huge tonight Marvin and Jefferson really stepped up and played big rolls tonight.
Not sure that I am going to be able to sleep tonight. Jazz played a great all around game tonight. Were there some flaws? Yes of course. But I am not going to be to concerned about that tonight. Going to savor this win! GREAT WIN YOUNG JAZZ TEAM!