Been a while Jazz Fans, but I will say, I have not missed a game since the last post. The Jazz are playing some really good basketball right now (minus Minnesota) and I have a tendency to believe the Jazz will play .500 basketball from here on out baring a major injury. That leads me to believe the Jazz will fall somewhere between the 5th to the 8th pick in this summers draft. Jazz Fans are going to need the ping pong balls to work in their favor if they want a top 3 pick!
So that brings the thought, the Jazz will need to think very long an hard about keeping the assets they currently have. Teams with a top 10 pick in this summers draft are not going to move that pick unless it returns them a star.
So where does that leave the Jazz? Looking at the roster the Jazz have at least one young player that could be a core player going forward. Lets take a look....
At the Power Forward/Center positions the Jazz have Derrick Favors, Enes Kanter, Jeremy Evans, Rudy Gobert. At the Small Forward/Shooting Guard positions the Jazz have Gordon Hayward, Alec Burks. Point guard is clearly Trey Burke, Raul Neto....and the Jazz may bring back Diante Garrett.
Of this list of young building blocks, only one is signed to a long term extension, that being Derrick Favors. Favors was able to sign an extension this summer that will pay him over $11 million dollars a season for 4 years. With Favors offensive improvement so far this season and his ability to be an anchor on the defensive end, make this a great deal for the Jazz.
So now the question becomes, where do the rest of the puzzle pieces fit? Of the young core is there any of them that should make more than the teams defensive corner stone? In my opinion, I don't believe, at this point, there is a player on this roster that deserves to make more than Derrick Favors. So let's try to put this puzzle together....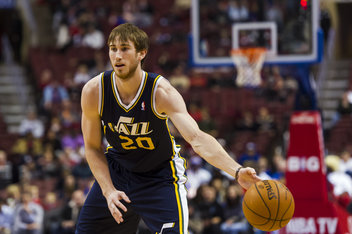 Gordon Hayward was unable to come to an agreement this summer. The rumored number was $12 million plus. The question you have to ask yourself is, is Gordon worth that kind of money? Having had numerous discussions and countless references, I tend to think that number is a little high. Market value says $8-$10 million a year. There is also the very likely possibility that a team will offer him that $12 million plus that he is looking for, that brings the question of whether or not you match? While Gordon is a very valuable piece to the puzzle, I think the last 5 games have shown that with or without Gordon the Jazz are capable of .500 ball.
So that leaves us with Alec Burks and Enes Kanter next on the extension list. I feel pretty confident in the market value for Alec Burks. Whether starting or being that elite 6th man, Alec's market value falls in at $5.5 million a season. His comps being Lou Williams and Jamal Crawford. Both explosive offensive players and the type of player that every franchise want to have. Enes Kanter is a different story. Bigs simply get paid! Kanter is a resource the Jazz have yet to fully tap and that may be to their favor. But because of the lack of quality bigs, Kanter is going to get something in the range of $8-$11 million.
That leaves the Jazz with Trey Burke and Rudy Gobert on rookie contracts for the next 3-4 season and rookie contracts are always favorable to an organization.
So quick recap....
Favors- $11.5..... DONE
Burks- $5.5.....?
Kanter- $10....?
$26 million for those 3....add Hayward.....
Hayward- $12....$
Puts the Jazz at $38 million for those 4 players.
This seasons salary cap is $58.69 million. Personally I feel these are all reasonable numbers for each player according to market value. It will be interesting to see the front office approach this summer with the contracts of Hayward, Burks and Kanter. Not to mention the draft and all the possibilities there. Not a better time to be a Jazz Fan.....PERIOD!
http://www.basketball-reference.com/contracts/UTA.html