February 6 2013, the Utah Jazz were coming of a win 100-86 versus the Milwaukee Bucks, giving the Jazz a record of 28-22, 6 games above .500. The Jazz started a line up of Paul Milsap, Al Jefferson, Marvin Williams, Randy Foye and Jamal Tinsley. Milsap and Jefferson both had 19 pts a piece. Jefferson had 11 rebs and Milsap had 6. Of the bench, Enes Kanter had 17 pts and 9 rebs, Derrick Favors had 9 pts and 11 rebs.
Here is where is gets interesting, last season there was a lot of clamoring to play the young guys. To let them develop, that they were the better players. People wanted to see Kanter and Favors. I can't deny that I was among those that wanted to see the young guys play more.
Fast forward to February 6, 2014, the Utah Jazz are coming of a 79-94 loss to the Toronto Raptors, giving the Jazz a record of 16-32, 16 games below .500. Now I am not going to say that I am disappointed with this Jazz team. That is far from the truth. Actually I am thrilled with this Jazz team. I have seen development from all the young players at one time or another throughout the season. I also realize with a young team, the most difficulty thing for them is going to be consistency. But I am pleased with the direction of the team.
But the time machine had me thinking, what if we had decided to hold on to Paul and Al? While I can not prognosticate where this team would be with wins and losses, I thought I would be interesting to think about. Changes would have been needed. But what? What personnel moves would have been made? Would there be a philosophy change offensively/defensively?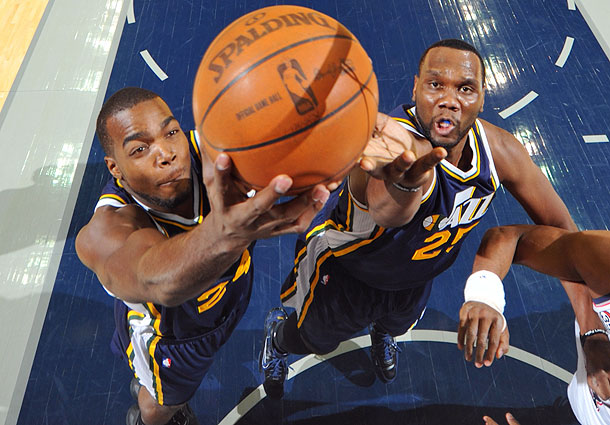 I think we can safely say that the defensive philosophy would be completely changed. The defense last year was terrible. I would guess that the Jazz would run something similar to what they are this year in regards to the pick and roll. Allowing Al Jefferson to sag back into the lane and attempt to protect the rim.
As for personnel, I don't want to pretend to be Dennis Lindsey, but I think we could expect to see something similar to the way Charlotte has handled Big Al. I would expect the team to attempt to sign more floor spacers, spot up shooters. If I remember right, the Jazz tried to sign current Bobcat and floor spreader Anthony Toliver. There was also the strong rumor of Kyle Korver coming back to Utah. I don't think its much of a coincidence that Milsap signed with Atlanta and Korver chose to resign with the Hawks.
Again there is no way to know how much, if at all, these moves would have improved the Jazz. I also believe that there would have had to be a fundamental change in the offensive philosophy and Ty's reluctance to allow bigs to shoot the 3. Milsap has shown he can be effective from the 3. Think about that, had Paul been given the green light, the kind of space that Big Al would be afforded down low. The double teams, that Al would have seen, giving wide open looks to Korver, Milsap and other spot up shooters. Granted Al was a bit of a "black hole" so those shots may never have come.
With that said, it would have been interesting to see how Dennis Lindsey and the front office would have gone about shaking up this roster. What changes would have have made in order to improve the team with a goal of being better than .500 and being competitive in the playoffs?
Glad I have a Flux Capacitor.....