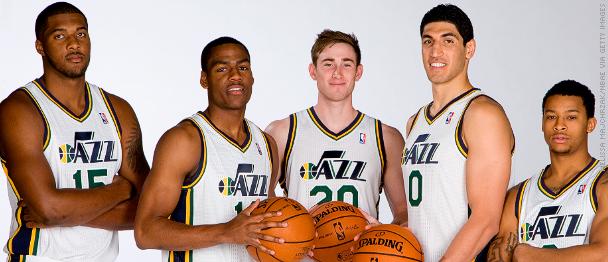 A few days ago we began the discussion of building a foundation for the Utah Jazz. Some of the "keys" that were discussed was the need for a "foundation" or principals and concepts. We know that Dennis Lindsey has said that he wants a great defensive team, that likely being the number one principal that Lindsey is looking for. Another principal that I believe that Lindsey is looking for is a "2 big" system. His quotes as of the last couple games of the season and since, seem to insist on Kanter and Favors playing together. That brings us to the "Cornerstone" Derrick Favors. He is the key to the defensive principals and concepts that Lindsey appears to have in mind. He is also a key figure in what appears to be a 2 big system.
With those things in mind, lets take a look at the "Raw Materials" the Jazz have to work with in building this foundation for a successful franchise for years to come. I wanted to look at some of the numbers for the Jazz young core coming in to the league. I was able to pull players NBA Draft Combine numbers from Draft Express
http://www.draftexpress.com/nba-pre-draft-measurements/
It is likely that some of these numbers have actually increased for some of the players with all the work they do at P3 in the off season. This should give us a decent baseline for some of the physical characteristics as well as some of their athleticism numbers. These numbers should give us an idea of potential for the young core, if they are put in a system that takes advantage of these attributes and allows them to be successful.
Trey Burke
-
Wingspan 6'5"
Agility 11.20
Sprint 3.16
I was surprised to find that Trey's wingspan was actually an inch longer than thought going in to the combine. He shows good lateral quickness with the agility drill and his sprint time is good. For comparison, Mike Conley Jr is often the comparison for Trey. Conley agility time was 11.63 and his wingspan is equal at 6'5.75". With the tools Trey has to work with he should be a better defender than he was this season. Granted he was a rookie and is learning the pro game and the physicality of it, but Trey has all the tools to be an above average defender. He has considerable length and could learn to play the passing lanes similar to Conley.
Alec Burks
-
Wingspan 6'10"
Agility 10.96
Sprint 3.17
To say I was surprised by Trey's wingspan, I was shocked by Alec's. Here is a player with the tools to be an elite defender in my opinion. He has incredible length for his size, has decent lateral quickness and has a burst that not many have at his size. Alec's weakest point may be that lateral quickness. It shows in game, as he struggles to get over screens. Alec is good straight up, but when that screen comes it throws him off his game. This is where he should be taking advantage of the great length he has and over playing to push away from the screen. Alec has some of the best numbers but may lack some understanding to the concepts that were taught. Given the right concept Alec should be able to wreak havoc in the passing lanes, as well as a help side shot blocker. Not to mention his ability to stay in front of his man straight up.
Gordon Hayward
-
Wingspan 6'7.75"
Agility 11.73
Sprint 3.22
What Gordon lacks in mind-blowing numbers he makes up for with surprisingly high athletic numbers and smarts. Gordon's no step vertical jump actually comes out at 30.5". That is an inch less than Gerald Green of the Phoenix Suns, and we all know what type of athlete he is. Gordon's max vertical jump is 34.5" For comparison sake, Gordon's lateral quickness is actually better than Jimmy Butler of Chicago, who is widely consider to be a good defender. Gordon is a good team defender and does a great job fighting over the tops of screens. I think what really helps Gordon defensively, is he does his "homework" early. He knows where his opponent wants to get to and fights them early and tries to push them off their spots.
Derrick Favors
-
Wingspan 7'4"
Agility 11.74
Sprint 3.25
We all know that Derrick has incredible length and athleticism. Little needs to be discussed as far as his "tools" go. What may be lacking from Derrick is that knowledge of defense, concepts and positioning. I guess it could be simplified down to basketball IQ. I believe that time on the court and in the film room will be the keys to his development. He needs to do that "homework" that was discussed with Gordon. He needs to understand personnel and put in the work early to push them off their spots.
Enes Kanter
-
Wingspan 7'1.5"
Agility 11.30
Sprint 3.26
This is where things get very interesting. Enes has some unreal numbers for a guy his size and position. The most surprising is the lateral quickness. Enes has the foot speed that he should be able to defend a hard hedge on the pick and roll and still have the quicks to get back to his man. As we all know all to well, that does not seem to be the case. So why is that? The numbers say that he should be able to do that. I think Enes has the same issue that Derrick does. Lack of court and film time. Defensive instincts are natural for some players like Rudy Gobert. Others, like Enes need to be taught. Defense is a concept that I feel can be taught to any player. It is a concept of effort more often than the tools that a player has. Enes has the "tools" but lacks the knowledge and understanding of the game. The question is how long do you want to wait for those attributes to develop?
Rudy Gobert
-
Wingspan 7'8.5"
Agility 12.85
Sprint 3.57
Rudy's physical size is amazing! He is so long and has huge hands. Rudy does not have the lateral quickness which is a given, but that length is very effective in the pick and roll situation, forcing the guard to have to swing out wider than they would like. It also makes the pass extremely difficult on the pick and pop. While the lateral quickness and sprint seem a bit slow to me, I can safely say that I have seen improvement through out the season in Rudy's quickness. As great as the physical numbers are for Rudy, you can't overstate his natural defensive instincts and his will to be a GREAT defender. He understands where is his bread is buttered.
These players are the "raw materials" the Jazz have to work with. They have other pieces that are currently on the roster that will help build this team. Guys like Jeremy Evans and Diante Garrett both have great length for their size. Jeremy has other-worldly athleticism and Diante does a good job laterally and playing the passing lanes. I look at these players and the numbers therein and find myself optimistic. Given the right concepts, development and coaching I feel these players could be the core of a top 10 defensive team.
Going forward, I will discuss some concepts both offensively and defensively that could be used to make these players successful and continue to build upon the foundation. I will also try to touch on possible coaching candidates and how they might fit with this young group. Again Jazz fans, there is a lot to be excited about!
GO JAZZ!