Ok Jazz fans, been a way for the last couple of games. Sorry for that! Its that time of the year holidays, work etc.....all busy. So I will work harder to keep the content coming.
Now lets talk about the future. That future is Trey Burke. Just on the simple "eye test" since returning to the lineup, this Jazz team is a completely different team. Sure you could credit it to over all team health, a resurgent Alec Burks, a number of different things. But I think the main reason for the Jazz recent success (that has many Jazz fans worried about draft position) is Trey Burke.
There are players in the league that have that "it" factor or superstar presence. As I watch these games, I sense that from Trey. He has a swagger to him and his game. He is not afraid of the big shot or the big moment. He looks forward to the challenge of guarding teams great point guards, and he simply never backs down. Monday night in Miami he struggled. He struggled so much that Ty put him on the bench. What I like about this, is the fact that Ty is learning, as is Trey. Ty did not bench Trey for the rest of the second half. He let the rookie sit down, collect himself, regroup and get back out on the court. When this happens to players, the often come back out with bad body language and do not want to compete. Not Trey.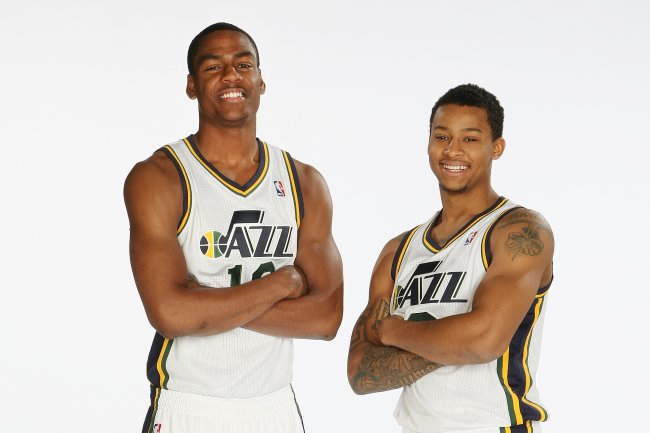 Fast forward to last night versus Orlando. Trey Burke the #9 pick overall taking on Victor Oladipo #2 and media darling pick for rookie of the year right now. Trey, clearly a gamer, comes out with something to prove and does so emphatically! Trey plays 40:28 minutes, shoots 12-20 from the field, 4-8 from 3, finishes with 7 rebounds, 8 assists, 1 steal and 2 turnovers! Oladipo finished 1-12 from the field, 3 points, 5 rebounds, 2 assists, 1 steal and 2 turnovers. Well played Mr.Burke.
I know that Jazz fans don't feel like the team has a "go to guy" on this team right now and that we need to get "that guy" in this draft. Don't get me wrong, I would love to have a top 5 pick in this years draft and feel that can pay dividends for years to come. But I can't remember a single rookie in the last 10 years that has come in to the league and been the "go to guy". Even Lebron James missed game winners and struggled some nights. The more that I watch the Jazz this season, the more I believe that they may have one or two "go to guys" currently on the roster. That is why I have been impressed with Ty and the staff of late. They are doing a great job teaching and developing these young guys. Time and development will equal Trey Burke, the All-star and possible superstar....